Amman Travel Guide
Originally spread over seven hills, or jabals, the capital of the Hashemite kingdom now sprawls over 19 hills and is home to over a million people, almost half of Jordan's population. Known as the White City, the hills are covered in a jumble of light-coloured stone houses, consistently box-like in shape with flat roofs characteristic of a typical desert city. Faded minarets, pavement markets, Arabian sweet shops and the crumbling remains of ancient civilisations contrast wonderfully with the contemporary edifices, fashionable boutiques and international restaurants. This blend of old and new combines in the noisy and chaotic downtown area, where the city's extraordinarily friendly residents go about their business.
At the heart of downtown is the Ottoman-style King Hussein Mosque, around which the buzz and bustle is at its most interesting. Even busier at prayer times, the surrounding streets are filled with the essence of Arabia, exotic smells and rows of glittering treasures in the souk (market) amid the noise of frenetic haggling.
Just as overwhelming is Amman's sense of history, dating back 5,500 years to its position as the ancient capital of the Ammonites, Rabbath-Ammon of the Old Testament, and later as Philadelphia, the Roman city that became part of the Decapolis. Overlooking the city from atop Jabal al-Qala'a is the Citadel, the site of the ancient Rabbath-Ammon, and at its foot lies the impressive Roman amphitheatre, which is the most remarkable remnant of ancient Philadelphia.
Amman is one of the oldest, continuously inhabited cities in the world, and today functions as a thriving commercial and administrative centre, with modern facilities, historical attractions and a longstanding tradition of hospitality. It is an excellent base from which to explore the surrounds, even the rest of the country, as its no more than five hours drive from anywhere.
Things to do in Amman
The hilly capital of Amman is packed with wonderful sightseeing opportunities and fantastic activities for all types of travellers. One favourite route for tourists is the Desert Castle Loop, which spans east and west of the city and has numerous sights to visit on the way and makes for an intriguing day out for the whole family, who can visit different castles and explore the scenic desert landscape. Within the city of Amman there is also plenty to do, including a tour of the spectacular Roman Amphitheatre and a stroll up the Citadel Hill to take in an eagle eye's view of the city. And if travellers need to rest their feet, sitting in one of the bustling street cafes is one of the best ways to see what the city is all about. Whether talking to people or simply watching the routines and traditions of locals, visitors should make sure they find a spot to hang out for an hour and simply enjoy the surroundings.
Not far from the city, travellers can experience many great day excursions from Amman, to sights such as the Jaresh, Madaba and Mount Nebo, each with its own specific cultural significance and each with its own special charm. The short trip from the capital to the shores of the Dead Sea is also a must. Here the northern hills, rich with olive trees, teeter over the rift of the Jordan Valley, which in turn runs down to the Dead Sea, the lowest point on earth. It is a spectacular sight and an experience not to be missed when visiting this exciting desert city.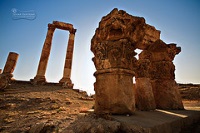 Citadel Hill
From its position on top of a hill overlooking the city, the Citadel (known locally as Jabal al-Qal'a) stands testament to the history of Amman, with its ancient ruins and excavated relics. It is the site of the ancient capital Rabbath-Ammon and numerous excavations have revealed Stone Age remains as well as those from the Roman to the Islamic periods. Other items from throughout the country are housed in the Jordan Archaeological Museum. The site contains several structures, including the impressive Omayyad Palace (al-Qasr), a small Byzantine basilica and what was once the Temple of Hercules, the Great Temple of Amman. Also on the site is the Jordan Archaeological Museum, which has an excellent collection of artefacts from Jordan dating back to the earliest settlement in the region over 700,000 years ago. The Dead Sea Scrolls, Iron Age sarcophagi, and a copy of the Mesha Stele are its most important exhibits.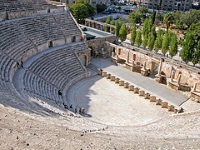 Roman Theatre
Below the Citadel is the magnificent Roman amphitheatre, an impressive relic from ancient Philadelphia that is cut into the hill and can seat up to 6,000 people. The theatre is still used occasionally for events today. Two cultural museums form part of the complex: the Jordan Folklore Museum, which has exhibits on traditional life, and the Museum of Popular Traditions, which covers traditional costumes and mosaics from 4th to 6th century Jordanian churches. The theatre was built during the reign of Antonius Pius (138 to 161 CE) and is today a famous landmark in Amman and, of course, the ancient Roman city Philadelphia. It surrounds the Hashemite Plaza, Odeon Theatre, and the Nymphaeum.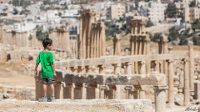 Jerash
Situated about 31 miles (50km) north of Amman is one of the top attractions in Jordan: the ancient city of Jerash. Considered to be one of the best-preserved Roman sites in the world, its exceptional preservation is due to it being buried in sand for centuries, and the magnificent baths, theatres, temples, arches, columns and stone chariot-rutted streets have long attracted scholars and tourists from across the world to admire the most complete city in the Roman Decapolis. Excavations dating to the Neolithic Age have indicated that Jerash was continuously occupied for more than 6,500 years. Today visitors can marvel as the ancient amphitheatre comes to life at the annual Jerash Festival of Culture and Arts, where artists from around the globe sing, dance, act, and play music on stage in a celebration of Jordanian and international culture.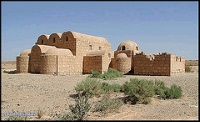 Desert Castle Loop
Stretching to the east of Amman towards Saudi Arabia and Iraq is a vast desert plain where a cluster of historic castle, fort, bath, and palace ruins has been preserved. Collectively known as the Desert Castles, their purpose is largely unknown, but most are thought to have been built as recreational retreats by the Umayyad caliphs during the early Islamic Period (7th to 8th centuries AD). Qasr Mushatta is the biggest and most elaborate of the castles, and is a fine example of Umayyad architecture despite never being completed. The best preserved and most enchanting is the luxurious bathhouse of Qusayr Amra, with its domed ceiling, colourful interior frescoes, and mosaics. It's also a UNESCO World Heritage Site. Other desert castles include the black rock fortress at Azraq, which was the desert headquarters of Lawrence of Arabia during the Great Arab Revolt in 1917, the mysterious Qasr al-Kharrana, and Qasr al-Hallabat's crumbling remains.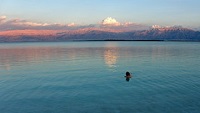 The Dead Sea
Situated about 28 miles (45km) from Amman, lies the famous attraction of the Dead Sea, the lowest point on earth at 1,335 feet (407m) below sea level. Devoid of plant or animal life due to the high salt concentration (four times saltier than normal), it is the incredible mineral rich water that has made it an internationally sought-after destination since ancient times, popular for its curative properties as well as for the experience of floating effortlessly on its surface. Most holidaymakers go to the main resort area on the northern shore at Sweimeh, where they will find showers, restaurants, a beach, and the opportunity to smother themselves in the mineral-rich black mud. Accommodation is available at the Dead Sea Spa Hotel, where various medical treatments are also on offer.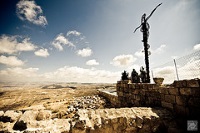 Mount Nebo
The most sacred site in Jordan, Mount Nebo is believed to be the burial site of Moses who climbed the hill in order to survey the Promised Land that he would never enter. Situated on the edge of a plateau about six miles (10km) from Madaba, Mount Nebo affords spectacular views towards Jerusalem, whose spires are visible on a clear day, and across the Jordan Valley and the Dead Sea. A modern day shrine sits on the ruins of a 6th-century Byzantine monastery, and affords protection to the original floor mosaics, while in the grounds stands the symbolic Serpentine Cross.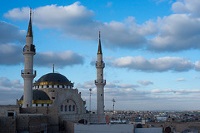 Madaba
Madaba is most famous for its spectacular Byzantine and Umayyad mosaics from the 5th to 7th centuries, which are scattered throughout the town's homes and churches. Located just 19 miles (30km) south of Amman, Madaba is also home to the famous 6th-century mosaic map of the Holy Land, in which Jerusalem and its surrounding regions are depicted. One of the town's most beautiful mosaics covers the floor of the Byzantine Church of the Apostles, and the Archaeological Park features an impressive collection of mosaic collages, where a series of ramps has been built over excavated mosaics to allow people to view them from above. The Greek Orthodox Church of St George is home to Madaba's main attraction and most famous mosaic: the 6th-century Madaba Map. Millions of pieces of coloured stone embedded on the church floor create a vivid picture of Jerusalem and its holy sites, including the Church of the Holy Sepulchre, the Dead Sea, Jericho, and the Jordan River. It is the earliest surviving original map of the region and was laid around 560 AD.
Getting Around
Amman is a relatively small city that is easy to navigate. Metered private taxis are available at reasonable prices, and white, shared taxis cover fixed routes. Uber and Careem are options as well. Locals tend to be friendly and helpful when it comes to directions, and drivers are usually forthcoming about route information. Municipal buses travel along most routes in Amman and are efficient and safe to use, though most routes are only written in Arabic. Car hire is available, but it's a good idea to hire a vehicle with a driver, which generally involves an extra cost.
Amman Climate and Weather
Amman has a semi-arid climate, with hot summers and cold winters. Summers last from June to September and are dry and hot, with high temperatures averaging 86F (32C). There is also low humidity, and frequent breezes provide some relief from the heat. Rain is uncommon during the day but at night there is often fog and drizzle. Spring is brief, lasting from April to May, with rain sometimes falling during the morning and the afternoon, and winter, which lasts from December to April, is wet and cold. Temperatures in winter drop below 24F (-4C), and there is snowfall and heavy fog. It can snow anytime between November and March. The best time to visit Amman is during the warmer months between June and September.
Jordan travel info
Electricity
Electrical current is 230 volts, 50Hz. European two-pin plugs are most common, though occasionally UK flat three-pin plugs are used.
Language
Arabic is the official language, but English is understood by most people involved in the tourist industry, and by middle to upper-class Jordanians.
Money
The official currency is the dinar (JOD), which is divided into 10 dirhams, 100 piastres or 1,000 fulus. Foreign currency can be changed at any bank or moneychanger. Banks are closed on Fridays. Better hotels will also exchange money. American Express, Visa, MasterCard and Diners Club are the most widely accepted credit cards and can be used at major hotels, restaurants and tourist shops; cash can be withdrawn from inside banks. ATMs are available throughout Amman and in other major cities, but are harder to find in rural areas.
Tipping
The better hotels and restaurants add a 10 percent service charge to the bill, but smaller establishments usually expect a tip. It is customary to round up the price of a taxi trip instead of tipping.
Health
Proof of vaccination is required if travellers are coming from or have transited through an airport of a country where yellow fever occurs, and a vaccination for typhoid is recommended for most travellers, particularly those who are venturing to rural areas, travelling for a long time or visiting friends or relatives. It is advisable to drink bottled water, which is cheap and widely available, though better hotels have their own water filtering systems. Medical facilities are basic outside of Amman and travellers should seek treatment in Amman or Aqaba in the event of an emergency. Adequate travel health insurance is essential and should cover the cost of any medical treatment abroad and repatriation.
Safety
The vast majority of tourist visits to Jordan are safe and trouble free, but there is a risk of terrorist attacks. Travellers should maintain a degree of vigilance at all times, particularly in public places and at tourist attractions. They should also avoid all areas near the borders with Iraq and Syria due to military activity, the threat of kidnapping by terrorist groups, and the lack of emergency facilities. Public demonstrations and political gatherings could potentially turn violent, so travellers should steer clear. Crime levels are generally low, and incidents mostly involve pick pocketing, bag snatching and theft from cars; visitors should take sensible precautions to keep their money, passports and valuables secure. Women travellers should exercise caution when hiking in some of Jordan's more remote areas, as they may receive unwanted attention from men or groups of men.
Local customs
Visitors should respect religious customs around eating, drinking and smoking during daylight hours, particularly during the month of Ramadan. The consumption of alcohol is strictly forbidden in the streets and it is advisable to respect local Muslim conservatism regarding dress. Women in particular will be better received if their legs and shoulders are covered in public places. Jordanian law doesn't explicitly prohibit homosexual acts, but locals generally don't tolerate public displays of affection between homosexual couples. Bedouin hospitality is genuine, though custom requires that visitors leave some small gift in return for a meal or a glass of tea. Bargaining is expected with merchants, especially in the markets.
Doing business
Jordanian business people generally prefer dark, conservative suits and ties for initial meetings, though casual dress is becoming more acceptable in certain industries. Conservative yet stylish attire is a good choice for women. As is the case in most Arab countries, business is very male-dominated, so women should clarify their role early in meetings. Meetings often start very late, but it is always advised to be punctual nonetheless. Most business is conducted in English, though using a few words of Arabic (particularly for titles) will be appreciated. Business cards are often exchanged. It is common to be invited for meals by one's host, who will usually pay the bill, though it is appreciated if the guest pays for the final meal or gives a small gift. Business hours are usually 9.30am to 1.30pm and 3.30pm to 6pm Sunday to Thursday.
Duty free
Travellers to Jordan who are older than 18 years of age do not have to pay duty on 200 cigarettes, normal cigars with a value not exceeding JOD 20, or Cuban cigars with a value not exceeding JOD 70; 1 litre of alcohol; and gifts to the value of JD200. Restricted items include firearms, sporting guns and other weapons without prior approval from authorities of country of origin and destination country. Prohibited items include all narcotics and birds or bird products.
Communications
The international dialling code for Jordan is +962. The outgoing code is 00 followed by the relevant country code (e.g. 0044 for the UK). Free WiFi is available in most prominent hotels and international coffee shops; travellers can purchase prepaid SIM cards for unlocked phones.
Passport & Visa
All foreign passengers to Jordan must hold return or onward tickets, and the necessary travel documentation for their next destination, and most nationalities require a visa to enter Jordan, which can be obtained on arrival, if travellers are arriving by air. It is highly recommended that travellers' passports have at least six months' validity remaining after the intended date of departure from their travel destination. Immigration officials often apply different rules to those stated by travel agents and official sources.
Entry requirements
US citizens must have a passport that is valid for at least six months beyond the date of their arrival in Jordan. A visa is required, and can be obtained on arrival.
British citizens must have a passport that is valid for at least six months beyond the date of their arrival in Jordan. A visa is required and can be obtained on arrival.
Canadian citizens must have a passport that is valid for at least six months beyond the date of their arrival in Jordan. A visa is required, and can be obtained on arrival.
Australian citizens must have a passport that is valid for at least six months beyond the date of their arrival in Jordan. A visa is required, and can be obtained on arrival.
South African citizens must have a passport that is valid for at least six months beyond the date of their arrival in Jordan. A visa is required, and can be obtained on arrival for a maximum stay of 30 days. It is possible to apply for an extension.
Irish citizens must have a passport that is valid for at least six months beyond the date of their arrival in Jordan. A visa is required, and can be obtained on arrival.
New Zealand citizens must have a passport that is valid for at least six months beyond the date of their arrival in Jordan. A visa is required, and can be obtained on arrival.
Useful contacts
Jordan Tourism Board, Amman: +96 26 5678 444 or www.visitjordan.com

General: 911
Embassies / consulates in other countries
Embassy of Jordan, Washington DC, United States: +1 202 966 2664.
Embassy of Jordan, London, United Kingdom (also responsible for Ireland): +44 20 7937 3685.
Embassy of Jordan, Ottawa, Canada: +1 613 238 8090.
Embassy of Jordan, Canberra, Australia (also responsible for New Zealand): +61 2 6295 9951.
Embassy of Jordan, Pretoria, South Africa: +27 12 346 8615.
Embassies / consulates in Jordan
United States Embassy, Amman: +962 6 590 6000.
British Embassy, Amman: +962 6 590 9200.
Canadian Embassy, Amman: +962 6 520 3300.
Australian Embassy, Amman: +962 6 580 7000.
South African Embassy, Amman: +962 6 592 1194.
Irish Honourary Consulate, Amman: +962 6 553 3616.
New Zealand Consulate, Ankara, Turkey (also responsible for Jordan): +90 312 446 3333.