Attractions
Notice
: Undefined property: stdClass::$overview in
/var/www/vhosts/tripreport.com/public_html/pages/provinces/province-things-to-do.php
on line
11
Notice
: Trying to get property of non-object in
/var/www/vhosts/tripreport.com/public_html/pages/provinces/province-things-to-do.php
on line
11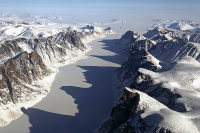 Baffin Island
A place fit for rugged souls, Baffin Island is the ultimate in extreme holiday destinations. The largest island in the Canadian Arctic Archipelago and the fifth-largest in the worl
Baffin Island
A place fit for rugged souls, Baffin Island is the ultimate in extreme holiday destinations. The largest island in the Canadian Arctic Archipelago and the fifth-largest in the world, Baffin Island is an area of unspoilt natural beauty and truly unique sights.
While certainly out of the way, it's still easily accessible via plane from Nunavut's capital of Iqaluit, and richly rewards intrepid travellers with a range of exciting adventures and activities. Holidays in Baffin Island means kayaking between ice floes, hopping aboard arctic cruises to view gigantic icebergs or strapping in for white-water rafting. Visitors can also hike or fish, and visit Kimmirut, which is an Inuit artisan community specialising in soapstone carvings.
For those going for the scenery, the Island's sunsets are truly spectacular and more than Insta-worthy, while viewings of polar bears, arctic foxes and ringed seals are commonplace. If visitors go at the right time, the famous Northern Lights (Aurora Borealis) fill the sky with brilliant, otherworldly colours.
Those looking for a challenging yet deeply rewarding holiday experience should look no further than Nunavut's Baffin Island. We do recommend packing plenty of warm and weatherproof gear, and don't forget the camera.
Website www.baffinisland.ca